Details
2.5″ SATA HDD/SSD Enclosure
Baseus Full Speed Series CAYPH-B01
the powerful VL716 delivers speeds of up to 450 MB/s,
Compatible with 7-9.5mm HDDs and SSDs
maximum capacity of supported drives – 6TB,
LED indicator, sleep mode after 3 minutes,
tool-free operation,
included USB-C – USB 3.0 cables
Lightning-fast installation
Baseus Drive Pocket is a sleek and professional tool that allows you to connect your drive to your PC effortlessly. The chassis supports lightning-fast data transmission to get the most out of your drive.
High-speed transfer
A device with a USB-C Gen.1 port provides speeds of up to 450 MB/s. To transfer 1 GB of data, it will take less than two seconds. The device supports drives up to 6TB capacity and does not need an additional power cable.
In the event of an accident, the
The advantage of external drives is that they can be a backup copy of our most important data. In the event that our computer is destroyed, infected by a virus, or if we want to store data in a place cut off from the network – protecting it from theft – a portable drive in the case is the ideal solution. Just hook it up to the port on your computer and you're done – the drive is ready to go.
Universal size
The drive bay is compatible with the most popular 2.5-inch SATA drive sizes, so you can enjoy multiple top drives for both HDDs and SSDs. The device uses the VL716 chip, which ensures secure data transfer.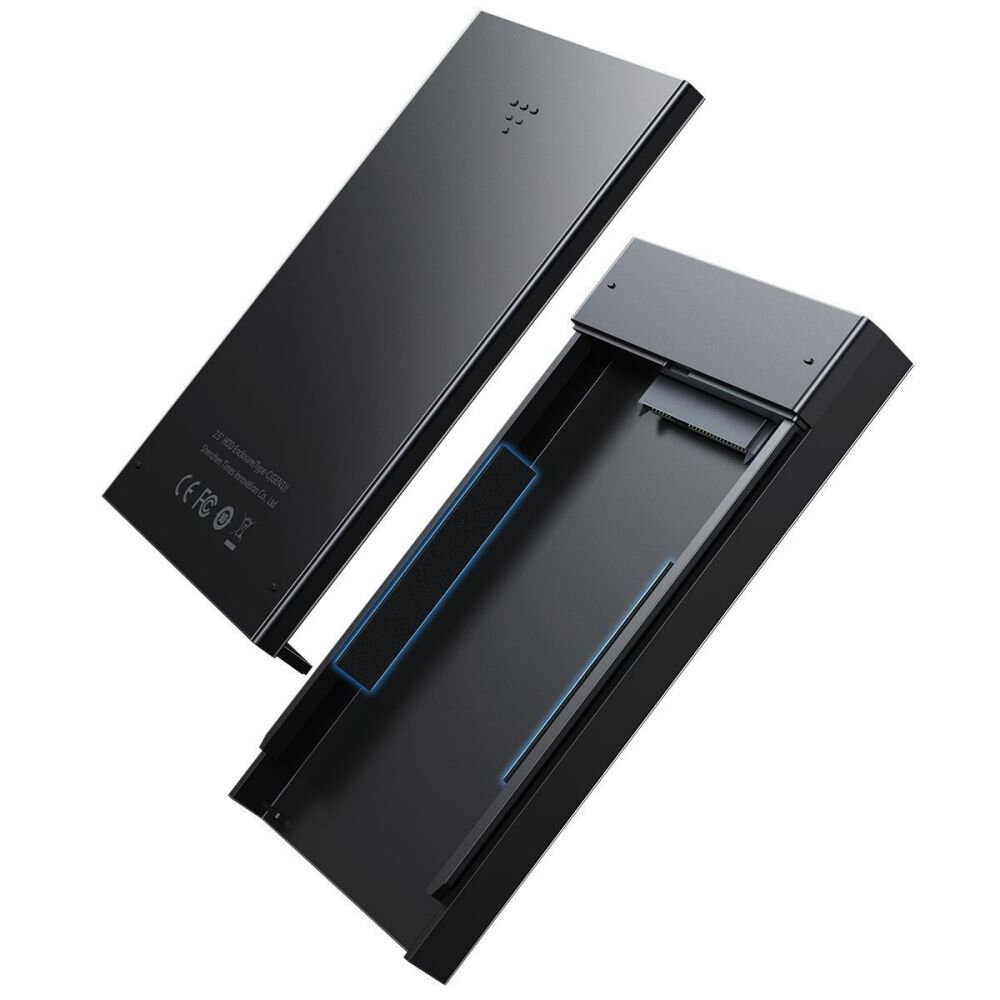 Effective protection
The drive case is made of solid ABS+PC material that is highly durable, and the additional protection of the drive provides material inside the pocket that relieves any shock. Mounting the drive is extremely easy. To open the case, tap and move it. Then insert the disc and insert the top of the case back in. Plug the cable from the kit into your pocket, the other end of the cable to your computer, and you're done.
Sleep

Intelligent drive mode puts it to sleep when not in use for more than 3 minutes, effectively extending the life of the mounted drive, reducing its lifetime.
Led
The pocket is also equipped with an LED that indicates the status of the device. When the drive is not in use, it lights up continuously in orange, and when the drive is in use, the LED will flash continuously.
Lite-On SSD test in Baseus rebuild under USB 3.0:
Specification
Baseus Manufacturer
Name Full Speed Series 2.5″ HDD Enclosure
Product code CAYPH-B01
MATERIAL ABS + PC
Black
Cable length 50 cm
Compatible 7-9.5mm 2.5″ Hard Drives
Transmission speed 450 MB/s
Max. 6TB drive capacity
USB-C Gen.1 interface
Warranty: 12 months
Includes: case, USB-C cable – USB 3.0
Housing in the original packaging of the manufacturer